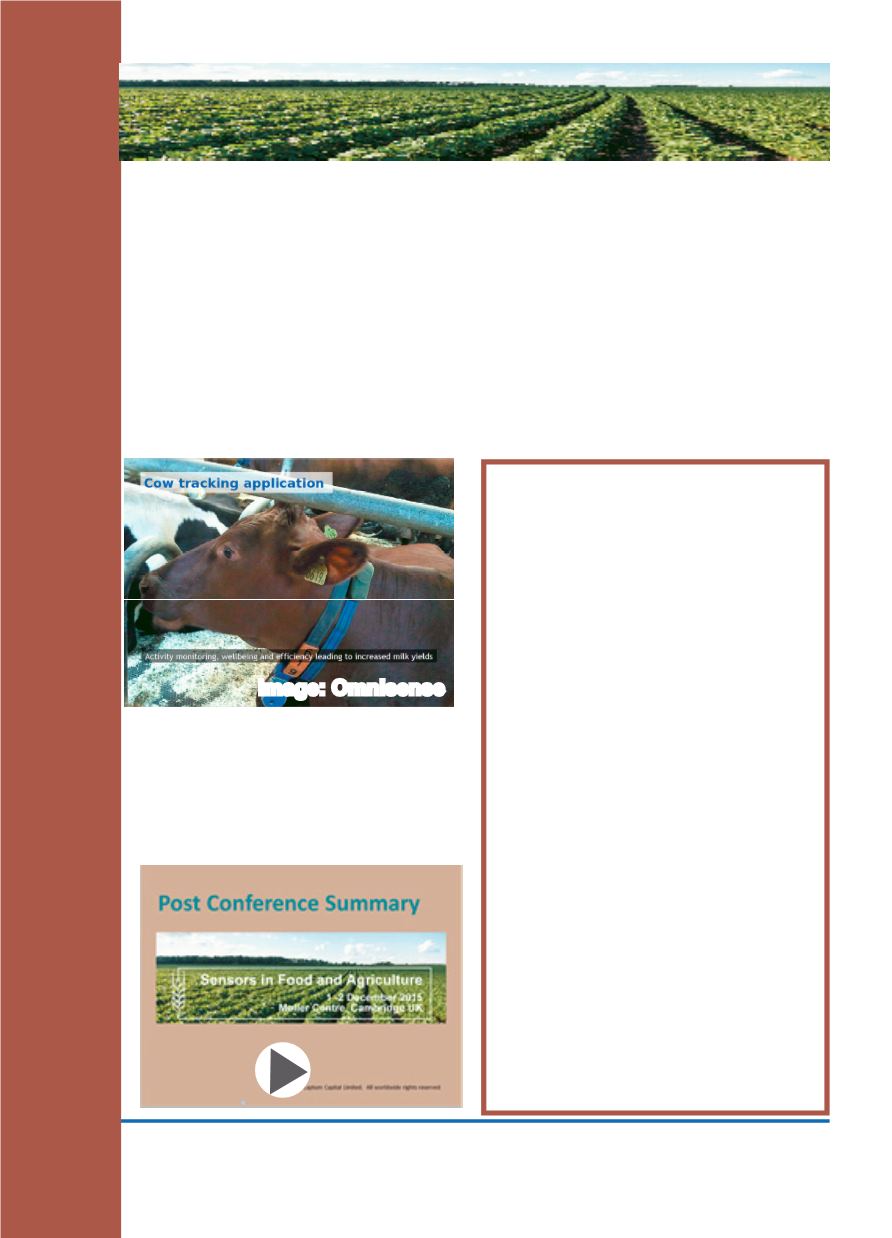 Sensor100
January 2016
16
The
Sensors in Food and Agriculture
conference held at the Møller Centre
in Cambridge UK on the 1- 2 December 2015 was very successful according to
delegates.
The
Sensors in Food and Agriculture
conference held at the Møller Centre
in Cambridge UK on the 1- 2 December 2015 was very successful according
to delegates. As at all Sensor100 organized conferences, the objective was to
bring together leading academic researchers with commercial organizations.
The Program of speakers set an exceptionally high standard, and included two
discussion sessions in which a panel of speakers debated with the delegates.
The conference included an exhibition, and exhibitors were invited to make an
"elevator pitch" during the conference. A poster competition, judged by the
conference delegates, was sponsored with two cash prizes by The Technology
Partnership.
Technical sessions at the Conference
were focused on: Connected and
Remote Sensing; Sensors Applications
in Agri-Tech; Biosensors in Food and
Agriculture.
Agriculture
Sensors in Food and Agriculture
"I had the pleasure of presenting our
research at the Sensors in Food and
Agriculture conference. Combining
agriculture and food in one conference
is highly appropriate and valuable from
our perspective as we are interested
in topical food safety issues such as
Campylobacter in poultry meat that sit
at the interface between agricultural
practices and food manufacture.The
mix of technological advances and
applications being presented by both
UK and international speakers was
particularly useful. The conference was
also very effective at promoting interac-
tion between key stakeholders through
exhibitor elevator pitches and panel
discussions. All in all, a very worthwhile
conference to attend and I look forward
to the next one!"
Dr Lynn McIntyre,
Senior Lec-
turer in Food Safety
Department of Food Science and
Agri-Food Supply Chain Manage-
ment, Harper Adams University
Image: Omnisense