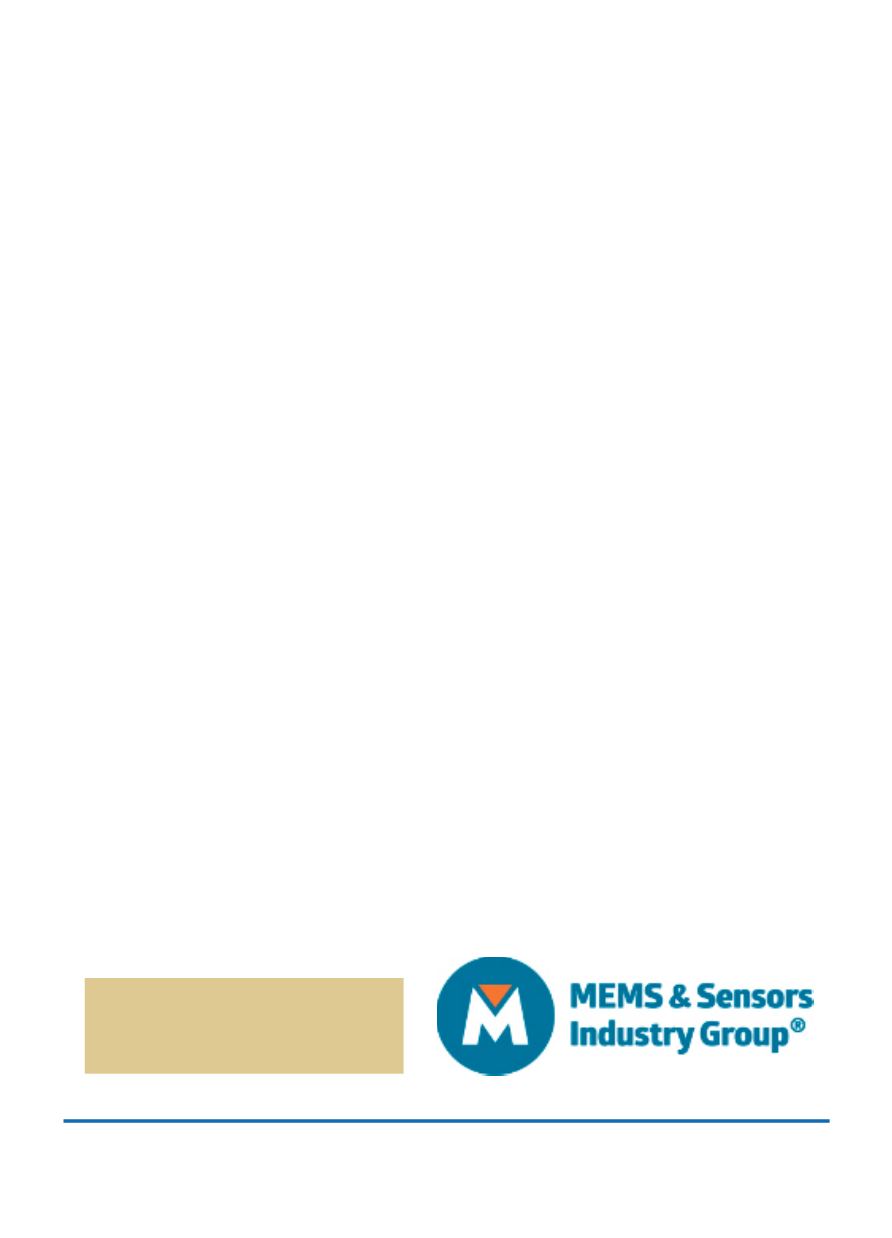 7
Sensor100
January 2016
Trends in MEMSTechnology 2016
1
Energy/Power
– like other areas of electronics, sensors continue to drive
power consumption down for mobile applications and to make energy har-
vesting more fruitful too. This is happening with smarter hardware and also
with better algorithms and context aware computing for smarter overall
systems.
2
Higher Integration
– different types of discrete sensors being packaged to
look like one as well as full monolithic solutions. This would also include sen-
sor arrays. Advances in packaging and test are also helping this direction.
3
New delivery vehicles
– fab based sensors being added to printed sensors
on flexible substrates – a hybrid platform. Perhaps beyond 2016 but we will
eventual see more solutions that utilize roll-to-roll printing techniques for
ultra high volumes and lower cost solutions. We will also see large area elec-
tronics/sensors that are becoming the surface of or are embedded into build-
ings, walls, flooring, furniture, etc.
4
A rise of new sensor types beyond inertial sensors
– optical, gas, chemi-
cal and biosensors to name a few. Many of these will feed the needs of the
personal healthcare, environmental sensing, food-ag tech and clean energy
segments. This rise will also put pressure on the need for new standards for
these emerging sensor types.
5
Smart data to benefit all
– the more sensors deployed, the more data is
generated and potentially the greater revenue earning potential for the data
analytics companies. I believe its time for the sensor companies to start par-
ticipating in this revenue stream also. Some of the profits from the backend
data monetization needs to be reinvested into the front end hardware sensing
technologies. This drives greater thinking on end to end solutions such as sen-
sors as a service.
StephenWhalley
Chief Strategy Officer
Email:
swhalley@memsindustrygroup.org
Cell: 480 282 1162